Welcome to The Voice of Bob.com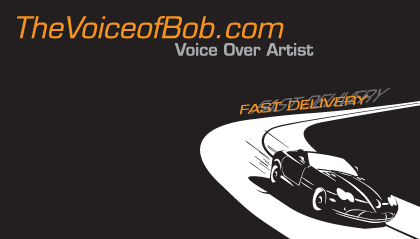 Bob was born and raised in Pittsburgh, PA. Now there is a great town to have grown up in, especially during the 70's when the Steelers were winning everything in sight. Plus it is full of ethnicity for me to pull character voices from.
I moved to Arizona when I was 20 to work for IBM. I stayed with them for 16 years, moving up the corporate ladder. Eight of those years I spent in Tucson, AZ and the last 8 were in Charlotte, NC.
I dabbled a bit in radio, working with one of the top morning radio shows in Charlotte. That's where I really learned to love being in front of the microphone. I had always been told I had a great voice, now I got a chance to really show it off. I really learned a lot from the people I worked with there.
I've always been very technical, so I enjoy the high tech side of voice over work and the different things I can do with that. I love imitating voices, entertaining, just making people smile. Live work has its benefits, but I'm also a bit of a perfectionist as well. Doing work in my own studio at home allows me to refine the production until both myself and the customer are completely satisfied.
Thank you and I hope everyone "hears" a lot more of me in the future.